What's the weather in Miami?
The weather in Miami is typically sunny and hot.
Miami is located in southeastern Florida.
How many people live in Miami?
There are approximately 617,000 people living in Miami.
Is Miami expensive?
No, Miami is not expensive.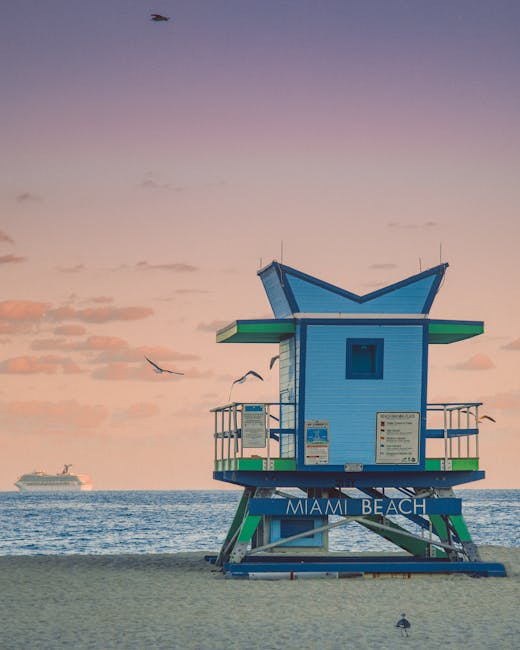 Miami on vaction" class="avatar-img rounded">
Miami's top picks for those on vacation:
1) SOUTH BEACH: South Beach is a round-the-clock hot spot with a diverse mix of world-class hotels, rich cultural heritage and stunning scenery, especially if you visit either the Art Deco District or Ocean Drive, where you can explore Miami's unique Art Deco architecture and admire dozens of hotels and other impressive bright colored buildings.
You can even sit down for a coffee or a dinner with a backdrop of iconic beach views. Lummus Park: between Ocean Drive and the Atlantic Ocean where you can walk in one of many paths or even exercise in an outdoor exercise area, which is a popular attraction for fitness enthusiasts.
2) CALLE OCHO IN LITTLE HAVANA: The vibrant Calle Ocho is the center of Cuban life and culture in Miami's Little Havana district. The area is famous for its restaurants, bakeries, markets and festivals.
You can walk discover who are some of the most famous people in the Latin American entertainment industry when you walk through the Calle Ocho Walk of Fame, which is similar to the one in Hollywood. To find out how first hand how the traditional Cuban cigars are made, you can visit at El Titan de Bronze. If you're in the area, be sure to check out the Cuban Memorial Boulevard Park and Eternal Torch, both of which commemorate the heroes who fought for Cuban independence. And if you're looking for a nice place to take a walk, be sure to check out the Bay of Pigs invasion memorial nearby.
3) KEY BISCAYNE: Key Biscayne is one of the most beautiful places in Miami!
It's a short drive over a bridge from downtown Miami, and it has beautiful parks, beaches, and neighborhoods. It's a great place to relax and enjoy the sun.
4) WYNWOOD WALLS: Wynwood is a former manufacturing district, converted into Miami's thriving arts hub featuring over 70 galleries and museums. It is especially famous for its old warehouse halls with giant canvasses created by street and graffiti artists from all over the world. More than 50 artists from 16 countries have painted over 80,000 square feet of walls in Wynwood since it was established in 2009.
5) MUSEUMS: No matter what your taste in museum, chances are you will find a museum close to your heart when visiting Miami including:
—Peréz Art Museum Miami, featuring 20th and 21st century international artworks. The museum spans over 200,000 square feet, and consists of indoor and outdoor spaces for flexible galleries, educational activities, and even dining and relaxation.
—Vizcaya Museum & Gardens. This National Historic landmark includes an Italian Renaissance villa and formal gardens resembling the layout of France's Versailles. The estate's Mediterranean feel gets a signature Miami flair through tropical elements such as palms, orchids, and Cuban limestone.
—Phillip and Patricia Frost Museum of Science. You'll find interactive exhibits, a three-level aquarium, and one of America's most high-tech planetariums at this museum in downtown Miami.
6) BAYSIDE MARKETPLACE: Bayside Marketplace is a two-floor, open-air festival center located in a lovely waterfront setting in downtown Miami and is Miami's number one most visited attraction. Take your pick from over 150 shops and almost 40 dining options and enjoy free live performances by local musicians. You can also have a few drinks by the water, or go on a bay cruise for sightseeing, fishing, or to for a boat party. And since you're there, don't miss the Freedom Tower and the rest of Downtown Miami full of impressive modern, New York City like skyscrapers.
7) LITTLE HAITI: Almost 30,000 Haitian-Americans live in this vibrant community formed in the 1980s by Haitian diaspora in Miami. Little Haiti is a great place to experience Haitian art, music, and dance, especially if you visit the Little Haiti Cultural Center and its Caribbean Marketplace.
8) COCONUT GROVE: Miami's oldest neighborhood, Coconut Grove mixes its early Bahamian influences with a modern and family-friendly atmosphere.
The combination of green landscape and Biscayne Bay's glimmering blue waters makes Coconut Grove a perfect escape from the busy streets and city life. Here, you can stroll along pedestrian-friendly streets shaded by giant trees, shop at charming boutiques, and admire the view of the sailboats anchored in the bay.
9) THE EVERGLADES Florida offers some of the most incredible and diverse habitats on the planet. From the cypress swamps Northwest to the coral reefs in the Keys, all that results in astonishing variety of wildlife. With a little luck, you'll see alligators, American crocodiles, friendly manatees, and colorful water birds all in one day. Spanning 1.5 million acres throughout Southern Florida, Everglades National Park is the largest subtropical wilderness area in America and and is home to many rare and endangered species.
These are just a few of the many attractions you will find in the Miami area.
Read More: HOT BITE Surf And Kayak Fishing With Lures